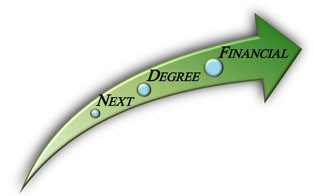 Welcome!
Next Degree Financial is an Independent, Comprehensive, Financial and Insurance Consulting Firm.  Although we have clients from many walks of life, High Net Worth individuals and families have had the most to gain from our extensive detail to the many facets of financial planning and risk management.  By being Independent we can offer you the most competitive programs the industry has to offer while working with you to reach your financial goals.  While addressing insurance needs, we can actually shop the most competitive insurance companies and rates before helping you make the best selection.  You'll find while working with us, that we will do everything we can to help make the planning process as seamless as possible.
If this is your first time visiting our website, you'll find a wealth of information in the form of calculators, videos, research reports, regularly updated newsletter articles and easy access to market performance data.  We also encourage you to visit the selections under the About Us tab.  There you will find information about our financial advisors and why Next Degree Financial is your superior choice when selecting a financial firm.    
We hope your visit will help you understand the opportunities and potential rewards that are available when you take a proactive approach to your personal financial situation.  We have created this website to help you gain a better understanding of the financial concepts behind risk management, investing, retirement, estate planning, business planning and wealth preservation.  Most importantly, we hope you see the value of working with an Experienced Certified Financial Planner Professional when it comes to tailoring a comprehensive financial plan to your specific goals and dreams. 
We look forward to hearing from you and working with you!