Certified Financial Planner & Dave Ramsey SmartVestor Pro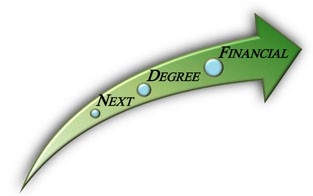 At Next Degree Financial, it's all about you! Whether it's uncertainties in the market, risk management, proper diversification, income strategies in retirement or mitigating taxes, we are here to guide you down your financial path and help you reach your goals. We value the relationships that are created here, and we look forward to earning your trust.
We have created a very simple process:
First, we would like to get to know you and take a look at what you currently have in place.
From there we will develop a customized strategy addressing your goals and concerns.
We'll walk you through it and assuming everything makes sense, we'll do all the leg work to implement the strategy for you.
Going forward, you'll be able to rest assured that you have a plan set in place, and the confidence that you have an experienced Certified Financial Planner to draw on should any additional concerns arise.
One of the biggest opportunities that you can take advantage of is time. Simply send us an email or give us a call to schedule your appointment.
If this is your first time visiting our website, you'll find a wealth of information in the form of calculators, videos, research reports, regularly updated newsletter articles and easy access to market performance data. We also encourage you to visit the selections under the About Us tab. There you will find information about our financial advisors and why Next Degree Financial is your superior choice when selecting a financial firm.
We hope your visit will help you understand the opportunities and potential rewards that are available when you take a proactive approach to your personal financial situation. We have created this website to help you gain a better understanding of the financial concepts behind risk management, investing, retirement, estate planning, business planning and wealth preservation. Most importantly, we hope you see the value of working with an Experienced Certified Financial Planner Professional when it comes to tailoring a comprehensive financial plan to your specific goals and dreams.
We look forward to hearing from you and working with you!
How does a traditional or Roth structure affect your IRA or employer-sponsored retirement plan? And what do their differences mean for older workers?

A shift in the balance of power can strongly affect economic policies. View the presidential candidates' tax proposals and other monetary policy positions.

This article explores the complex web of federal and state tax and employment laws that determine how businesses must classify workers.

The Federal Reserve's "Beige Book" provides a broad overview of the economy that is often essential for making economic policy decisions.